Are you looking for the perfect platform or media to promote your products, increase your brand visibility?
Do you hear more and more about Instagram Reels, Snapchat and TikTok as video vectors that should not be overlooked in a marketing strategy?
So, you are probably wondering what are the advantages and disadvantages for your brand to publish on one or the other of its supports?
That's what we're going to see together in this little comparison between Instagram Reels and TikTok.
Tiktok, Snapchat & Instagram Reels: How it looks and works ?
The type of Content on each platform
Who uses what ?
TikTok or Instagram: 3 tips for choosing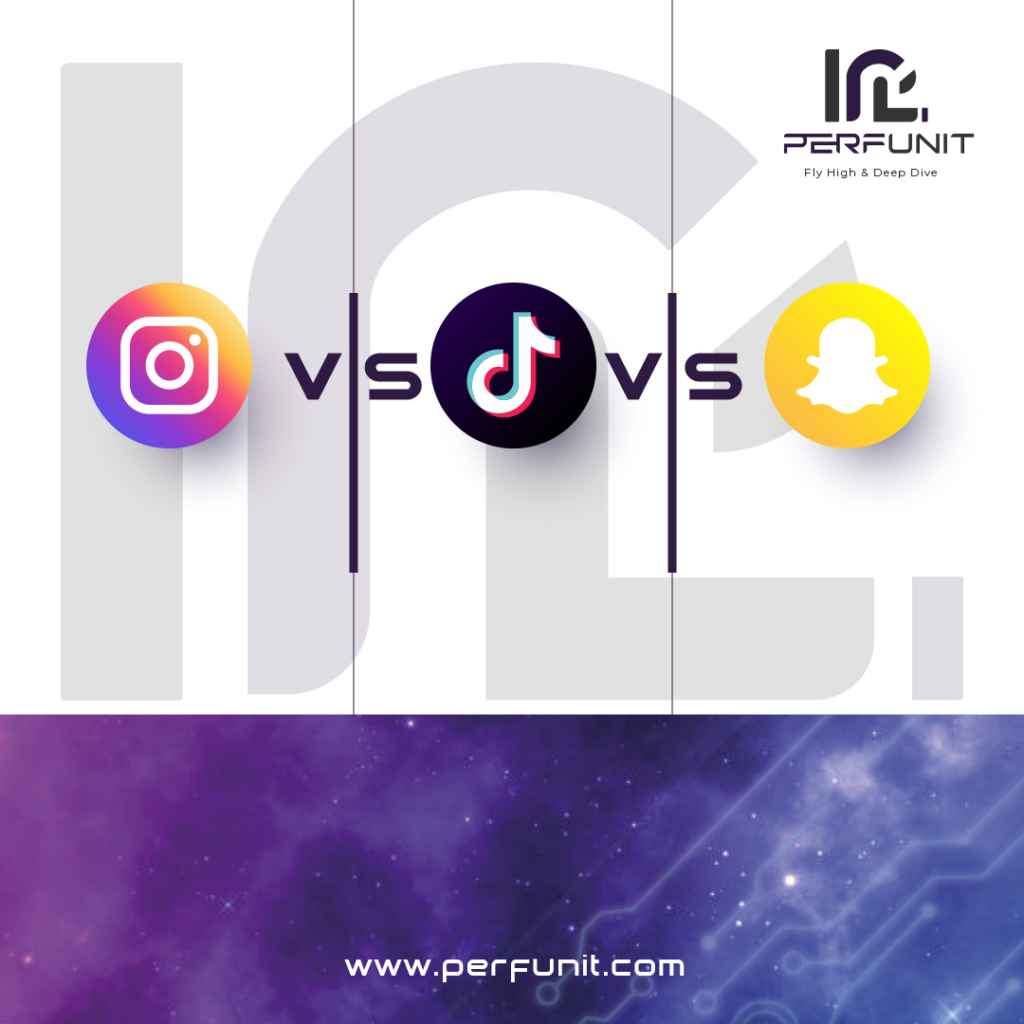 Tiktok, Snapchat & Instagram Reels: How it looks and works
Snapchat, launched in 2011, allows users to create video stories and send video messages or pictures to their friends. Unlike other apps, Snapchat content expires immediately after 24 hours.
Meanwhile, TikTok, launched in 2017, is similar to an older app called 'Vine In that it allows users to create 10-60 second looping videos that can be seen on their profiles or can be placed algorithmically on the feeds of users with similar interests or demographics.
Instagram Reels, launched in late 2020, is the platform's answer to TikTok. The similarities between the two are many – they both allow users to quickly create short videos and add filters, effects and music. However, the most noticeable difference between the two is the length of the videos. A Reel is capped at 60 seconds, while a TikTok video can be up to 3 minutes.
At the moment, the three applications continue to grow. Instagram has 500 million daily users worldwide, followed closely by Snapchat with 306 million. Not to be overshadowed, TikTok hit a major milestone towards the end of 2021 – 1 billion daily users.
The type of Content on each platform :
Snapchat is considered an app for content between friends, which includes text and video messages that people post in their stories on a daily basis or specifically send to friends.
On the other hand, in the Discover area of ​​the platform, marketers can create ads and Story edits with videos and graphics to promote their own products or services.
TikTok has based all of its success on a short and dynamic format, After the 15-second videos, then the 30-second ones, the social network is once again expanding its offer. In July 2021, TikTok announced that videographers could imagine content of up to three minutes.
Like Snapchat, Instagram Reels can be shared amongst friends or made public to the larger community.
Plus, with the integration of Shopping and Branded Content features, we're seeing businesses use Reels as a tool to promote products and partner with influencers to create branded content.
Who uses what ? 
TikTok is a young person's playground. While there are plenty of millennials on the app, most of its users are Gen Z, making it the perfect platform for brands with products and services designed for people 24-years-old and younger.
According to the company itself, Snapchat reaches 75% of millennials and Gen Z in the United States, making it a goldmine of potential customers if your brand's primary audience falls within the broad 10-40 age range
Unlike Snapchat and TikTok, which have large audiences of younger teenage users, Instagram skews toward slightly older members of Gen Z and younger millennials. Collectively, 18- to 34-year olds account for over 62% of the app's total global audience.
Tiktok, Snapchat or Instagram Reels: 3 tips for choosing :
The usefulness of the social networks is well established. However, before deciding where to invest some of your marketing budget, here are the things to consider: 
As seen above, TikTok's audience is different from Instagram. If you are targeting a young audience, the former is the ideal channel.
In contrast, Instagram is the social network of millennials and young adults. While not as engaged as on TikTok, they are very loyal: 75% of Instagram users take action after seeing a brand post.
Identify your marketing objectives:
A significant number of Instagram users make their purchase decision following a visit to the social network.
On TikTok, the first quest for users remains entertainment. The app is taken for its funny videos. Thanks to challenge hashtags, you can generate buzz around a new product or service. As for its other advertising formats, they adapt perfectly to the lead awareness phase.
Result: If your goal is to improve your brand awareness, you can put on this social network.
On the other hand, if you want to increase your sales, Instagram will correspond more to your needs. Indeed, the platform's advertising offers are effective in collecting leads, generating sales and increasing traffic on your website.
Think about the brand message:
Instagram is known for its polished and professional visuals. Quite the opposite of TikTok which puts on the authentic!
This platform remains the ideal place to present your brand in a new light. It allows you to humanize your company and engage in a personal relationship with your audience.
With consumers increasingly resistant to advertising messages, TikTok helps you get your marketing content across in a more subtle way.
Tiktok, Instagram Reels & Snapchat are similar in many ways. To choose, probe your target audience well and stay consistent with your goals.
Nevertheless, nothing forces you to be satisfied with one or the other platform! You can broadcast your marketing strategy on TikTok and Instagram or Snapchat. Your video content can very well be reused on each social network. You will also have the possibility of doubling your image and boosting virality around a product or service.
The key is to be able to produce enough content for your platforms and have the time to manage your community !