More than obvious, marketing is experiencing more and more evolution. We have reached a stage where we wonder what is the next step after the digital campaigns? In this article, we will focus on marketing campaigns, more specifically advertising on social networks.
The term marketing campaign is very general. It can be the promotion of a product, the launch of a new offer or more generally a notoriety campaign. In the same way, a marketing campaign can be declined in different forms and different channels. There are, for example, phoning campaigns, online advertising or emailing.
Marketing campaigns are not only used by businesses. Associations or public services can also conduct marketing campaigns with a specific objective. For example, we regularly find public health marketing campaigns aimed at combating smoking, alcoholism or even nutrition.
If you want to set up a digital marketing campaign, but wonder what it can be used for, and how it works, this article will help you. We will base ourselves on the following plan to properly dissect our subject. Good reading!
What was meant by a marketing campaign ?
Why do a digital campaign?
how to make a successful digital marketing campaign ?
The KPIs to analyze to judge the effectiveness of a marketing campaign
What was meant by a marketing campaign ?
A marketing campaign is an organized set of coherent actions intended to achieve a specific objective. To succeed in a marketing campaign, it is crucial that it integrates coherently into the marketing plan while relying on a unique value proposition adapted to its target. The convergence of the marketing and commercial means implemented and the mobilization of the internal teams are also essential for the success of the campaigns and the marketing plan of the company.
Digital is now omnipresent in the daily life of consumers.The consumer's purchasing journey is strongly impacted. Always more connected, the consumer is now better informed but also more accessible for brands.
As a marketer, business owner, it is therefore essential to exploit digital to offer a flawless buying experience to your targets.
Why do a digital campaign?
A digital campaign offers many other possibilities that do not exist in traditional marketing. All the same, you should not drop the entire traditional marketing strategy, but on the contrary, integrate it as a complement to a digital strategy.Digital allows you to optimize your communication in different ways:
Digital offers a strong interaction with its audience and multiplies the points of contact
It allows qualified targeting: geolocated, by keyword, according to socio-demographic criteria or according to behavior
Digital allows precise and real-time measurement of the performance of your campaigns
Digital advertising can be multi-channel: from the desktop at home to the terminal at the point of sale, via the smartphone on the way.
A marketing campaign must have a certain consistency. For this, it is important to set a precise objective, to define your target and to adapt your campaign according to your goals…
how to make a successful digital marketing campaign: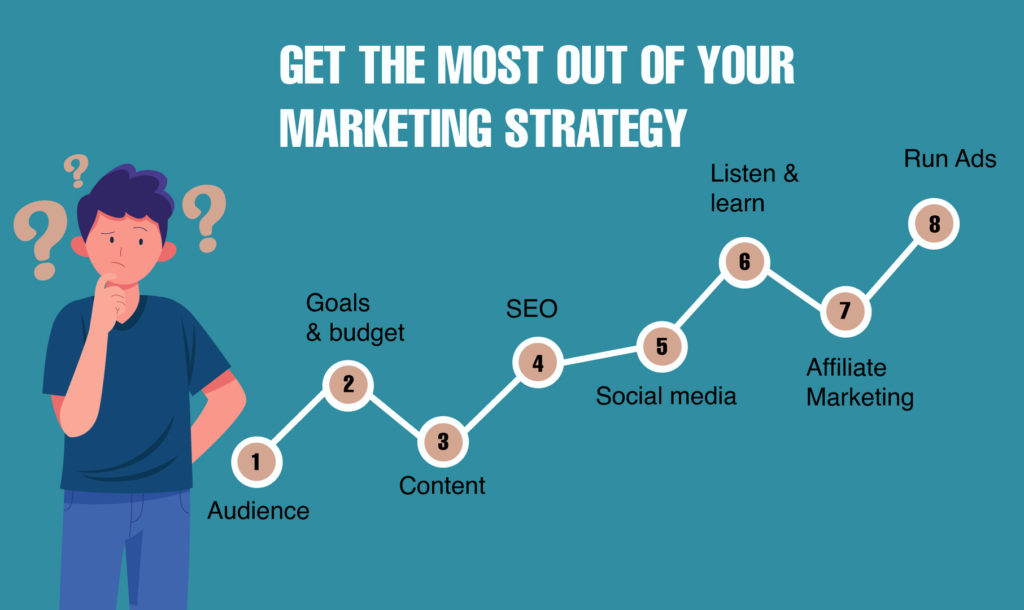 In order to succeed in your campaign,you should ask yourself 3 questions:
The first questions: Why do you want to create this campaign? What goal are you aiming for? A marketing campaign, as we saw from the outset, is characterized by its objective,
Namely that the objective must be measurable but it must also be precise, in order to be able to ultimately qualify the success or failure of the campaign.
There are thus 3 types of campaign according to the objective:
notoriety campaigns, which aim to make the brand known to the target;
brand image campaigns, which aim to promote the latter in order to remain anchored in the mind of the customer;
conversion campaigns that aim to promote a product or service.
The second question: Who are you targeting?
Once your goals are well defined You must then define the famous "target audience". A marketing campaign is an act of communication, it is a message. But who do you want to communicate with? Who is the message addressed to? Who are you talking to? The form and content of a message depends on the target that has been chosen. It is for this reason that it is necessary to determine the target from the first phases of design of the marketing campaign.
The third question: How to create an advertisement? This step calls for creativity. It's about building the design of the campaign and collecting the message, taking into account the right words, the right tone, the right angle. Design and message must be committed while remaining in tune with the brand's identity.
The KPIs to analyze to judge the effectiveness of a marketing campaign:
And yes, it is not enough to create ads on social networks and let them run hoping that it works.
In marketing, it is always important to measure the effectiveness of companies' actions. It is for this reason that you absolutely must measure the performance of all your marketing campaigns.After a certain period , it is possible to analyze the performance of your campaigns thanks to the tables generated by the networks.
The whole point is to understand the performance of your campaigns based on key performance indicators (KPIs) in order to optimize them and achieve your marketing objectives.
Your KPIs will directly lead to your objectives:
The click-through rate on your ads:
CTR stands for click-through rate: a metric that measures the number of clicks advertisers receive on their ads per number of impressions.Also the number of clicks that your ad receives divided by the number of times your ad is shown. For example, if you had 8 clicks and 100 impressions, then your CTR would be 8%.
Conversion rate through your ads:
It's one of the best ways to measure the performance of your advertising campaigns.
calculated by simply taking the number of conversions and dividing that by the number of total ad interactions that can be tracked to a conversion during the same time period. For example, if you had 80 conversions from 1,000 interactions, your conversion rate would be 8%, since 80÷ 1,000 = 8%.
The engagement rate on your ads:
Engagement rate is a metric that measures the amount of interaction social content earns relative to reach or other audience figures.This can include reactions, likes, comments, shares, saves, direct messages, mentions, click-throughs and more (depending on the social network).
Engagement rate by reach = total engagements per post / reach per post * 100
The number of impressions of your ads:
Impressions represent the total number of times your ad has been viewed. That means that if a single person saw your ad 4 times, they would count as 4 impressions. If 4 people saw your ad once, they would also count as 4 impressions.
As we have seen in this article, advertising on social networks makes it possible to establish a real digital marketing strategy and meets several objectives: recruiting a community, increasing traffic on its website and its conversion rates, improving its notoriety…
With a reasonable cost, this type of advertising allows you to reach a qualified target to meet your needs and objectives as closely as possible. Now essential for prospecting and establishing contact, social networks are undeniably useful tools for your business.
Each social network has its own advantages and targets a different audience, it's up to you or your agency to choose the most relevant according to your business strategy!
Want to advertise on social media? Can't choose? You do not know how to do it ?
Call on our expert team to turn your strategy into a success story.