Winning new customers and retaining them are major concerns and real challenges for companies of all sizes. Attracting more and more customers is essential to increase your sales, increase your turnover and develop your business over the long term.
To do this, you must put in place a successful customer acquisition strategy, which combines both marketing and sales actions, and which encompasses all stages of the conversion funnel from lead generation to customer loyalty.
Throughout this article, and based on the following plan, you will gradually discover tips and techniques for planning and implementing a successful customer acquisition strategy.
What is customer acquisition in e-commerce?
The stages of customer acquisition
How to develop an effective customer acquisition strategy and how to increase online sales?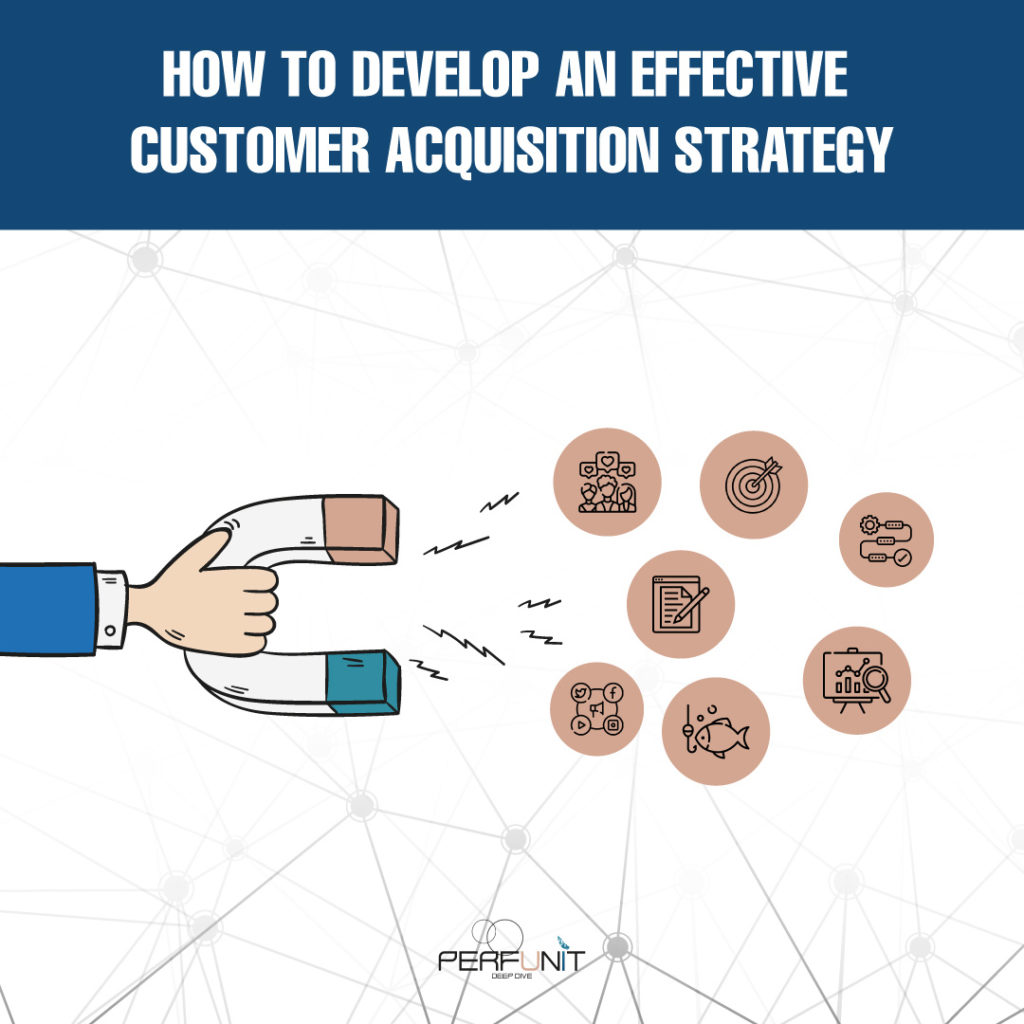 What is customer acquisition in e-commerce ?
Customers have endless choices to spend their time and money on.With an option surcharge, customers can be extremely selective and brands need to prioritize customer acquisition and retention.
Customer acquisition is the process of finding potential customers and then getting them to buy your products or services. Customer acquisition in e-commerce must be both measurable and repeatable.
The stages of customer acquisition :
Customer acquisition happens in stages. These stages can be visualized in the form of a funnel, which details the different phases a potential customer might go through.
In general it consists of six stages: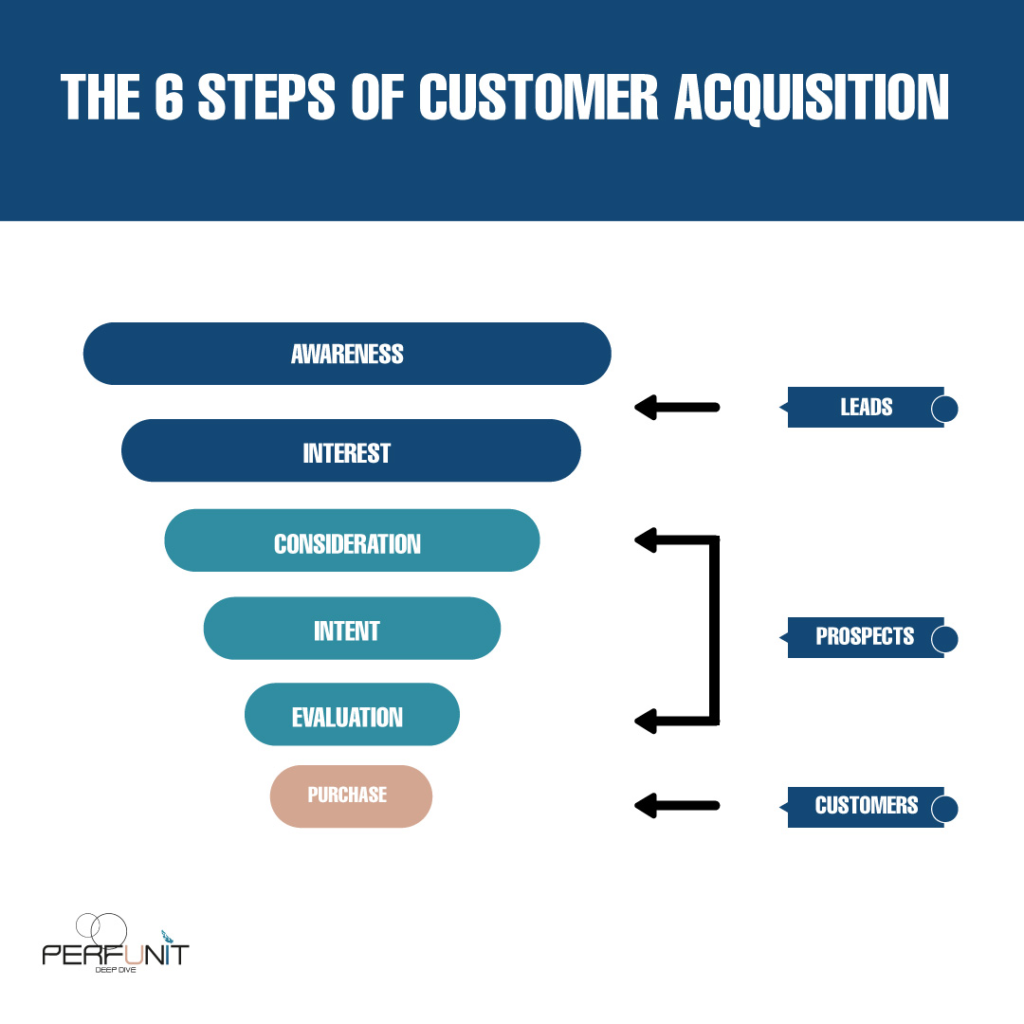 Top of the funnel – Leads
1. Awareness: This is the first time a lead learns or engages with a brand, often through educational SEO content.
2. Interest: The lead decides whether or not they are interested in the brand and what it has to offer. Landing pages, infographics, videos, and social media content can help turn prospects into leads.
Middle of the funnel – Prospects
3. Review: The prospect decides that a product or service might be useful, but wants to know if the brand is trustworthy – for example, is the brand a helpful expert. Blog posts and videos, case studies, and e-books help build that trust. Brands can encourage prospects to sign up for email newsletters and other valuable content.
4. Intent: The prospect must be convinced that buying the brand – instead of a competitor – is a wise decision. Product-specific information such as white papers, webinars, and FAQs work well at this stage.
5. Rating: The brand proves it has the best product or service through reviews, customer testimonials, demos, and case studies
Bottom of the funnel – Customers
6. Purchase: The customer is ready to buy, and special offers like free trials, freebies, or discounts can seal the deal.
How to develop an effective customer acquisition strategy ?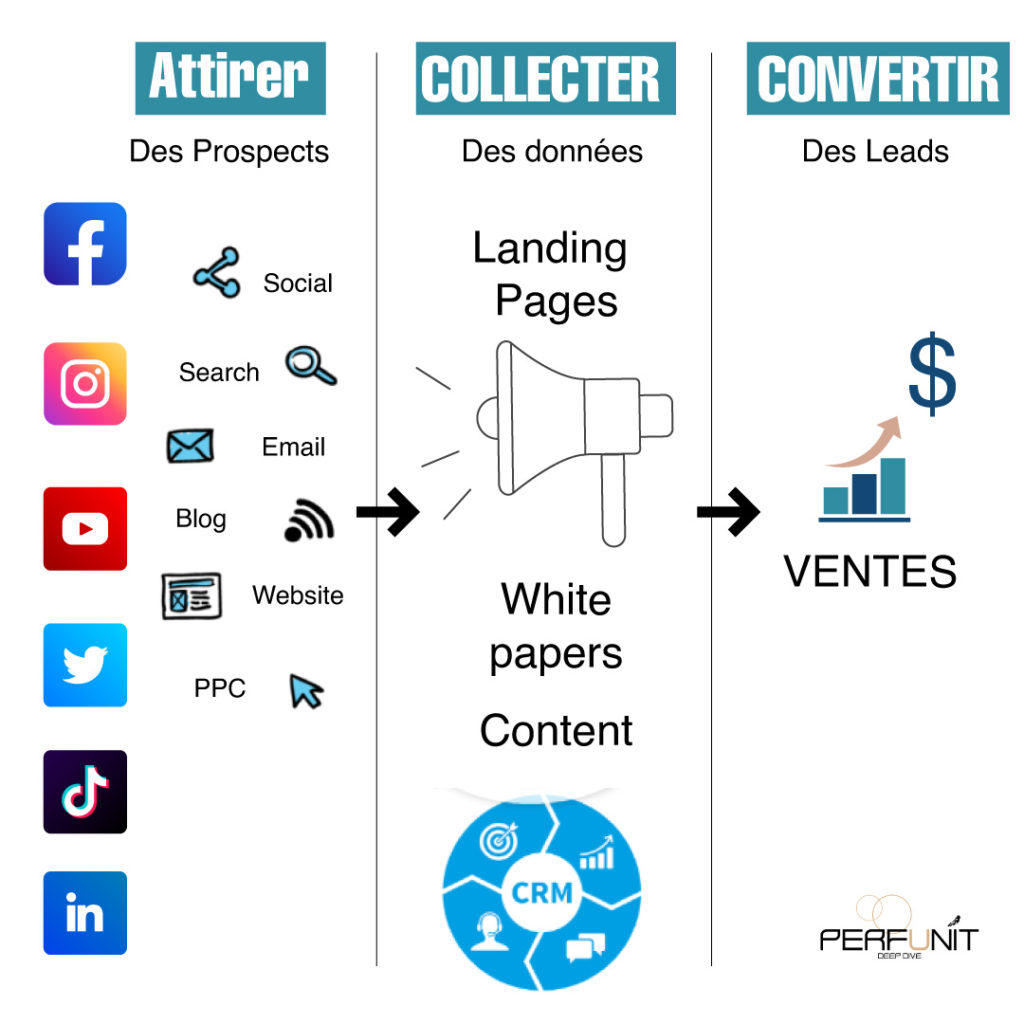 When launching any project or campaign, you must set the objectives that will define all the steps to be taken and that will contribute to its success.precisely these objectives must make sense and be based on the purpose of the company.One of the best known and most used methods in business is the SMART method.
Get to know your targets and their behavior
The most important step to start is to know your prospects. What are their needs and expectations? How do they find out about a product? What are their consumption patterns? Start by analyzing the buying behaviors and habits of your potential customers. This way, you will know where and how to communicate to reach them and what to offer them to win them over.
Optimize your website for SEO
Natural referencing is all the practices and optimizations aimed at making your website appear in search engines and gaining visibility through good positioning.This is an essential step that allows you to sustain your activity on the web and ensure quality traffic.it also allows you to improve your ranking in search results by following the emerging research trends of your target.
Considered an effective way to get listed on the first page of Google and other search engines is to invest in a paid search campaign. Admittedly, this can represent a certain budget for your company. But this way, you get targeted traffic to your website faster, you reach your audience more easily, and you can convert potential buyers into customers faster.
It will be too beneficial for the company to partner with brands that offer products or services that complement yours.
For a successful partnership, you must choose your partner carefully and ensure that the benefits are mutual. In this way, not only do you reach new customers through your partner's clientele, but you also benefit from their notoriety, and vice versa.
Offer unique and original content
Content marketing is an essential approach for any company wishing to stand out from the competition and increase its turnover.Creating quality content is about finding the right balance between useful content for your audience and optimized content to meet the criteria of a good SEO.
Be present on social networks
Being present on social networks for a company has become a necessity and not a choice. several reasons require it: to monitor, manage, heal and improve its e-reputation. It is an excellent lever for communication and development of a customer base.
Develop Collaborations with influencers
By adapting the famous principle of word-of-mouth to digital, influence marketing is proving to be a particularly effective strategy, in order to improve the visibility of a brand, to reach an ever wider audience and to acquire new prospects.
On the other hand, it is necessary to detect the right influencer whose profile is in perfect harmony with your brand and with which your customers and prospects will be able to identify.
Acquiring and retaining customers is essential to the success of a business. To implement a successful customer acquisition strategy, you must take into account the needs and expectations of your prospects in order to attract them more easily, and above all to retain them.
If you want to develop a relevant customer acquisition strategy and you are looking for a high-performance team that will help you achieve your goals, do not hesitate to contact us.